Selection #1
In and Out Window
87 mins
In the same manner as the Vitruvian man, bordering the outside with his extremities, proportioning himself, this selection, in staying in motion rhythmically between the In and the Out, places itself into question, materially, as finite gaze.
G.B.
BUY TICKET
Fri 27 May
19:30 - 21:30 / ACUD KINO
---
Wenhua Shi
CONCRETE: BOSTON CITY HALL

USA, 2021, 21' 00, HD, sound, World Premiere


Traditionally, Chinese and Japanese aesthetic principles, reflecting Buddhist spatial ideas, focus on the use of empty or open spaces ("ma" in Japanese). The newest piece, titled Concrete: Boston City Hall, was created with this perspective. Here I try to present the meditative quality of the empty city hall. The project was presented by local art organisation Non-Event with support from the Massachusetts Cultural Council.
---
Siegfried A. Fruhauf
DISSOLUTION PROLOGUE EXTENDED VERSION

Austria, 2020, 6' 00, 16mm, HD, sound, German Premiere


The central leitmotif investigated by Siegfried A. Fruhauf in his artistic works concerns the nature of film, its very essence. In Dissolution Prologue (Extended Version), this guiding principle leads to associated questions in terms of the medium's limitations and, as the title suggests, their dissolution: metaphorically, this concerns the idea of the curtain as emblematic of the cinematic and its veil of illusion that never conclusively closes but rather relentlessly opens. The visual composition signals "The show must go on," its conceptual linchpin once again pivoting on the idea of absolute film within the Fruhaufian reference system of film history and cognitive theory. The "veil" of the prologue concretely conveys the introduction of analog film footage as it powerfully pulls us into a contrastive interplay of horizontal and vertical lines expanding and approaching one another in sonorous accord with a pure sinus tone variation. The film frame is continually filled by surfaces resulting from emerging and retreating lines. A kind of blink, what is continually shown, disappears only to reveal the next visual layer which is again wiped away. A blue grey analog texture flickers, grain and scratches lend an optical rhythm and impression of depth atop which minimising lines converge in a cross. The frame expands toward the middle of the film – reminiscent of Morgan Fisher's Screening Room – to include two pulsing strips of pure digital light flanking the left and right sides of the frame. With Kazimir Malevich's Black Square (1915) in view and Blaise Pascal's 1647 vacuum test arrangement in mind, Fruhauf probes experimental film in the pure form of an experiment and transforms it into visual music. (Katharina Müller).
---
Simon Liu
HAPPY VALLEY
USA, 2020, 13' 00, 16mm, HD, sound, Berlin Premiere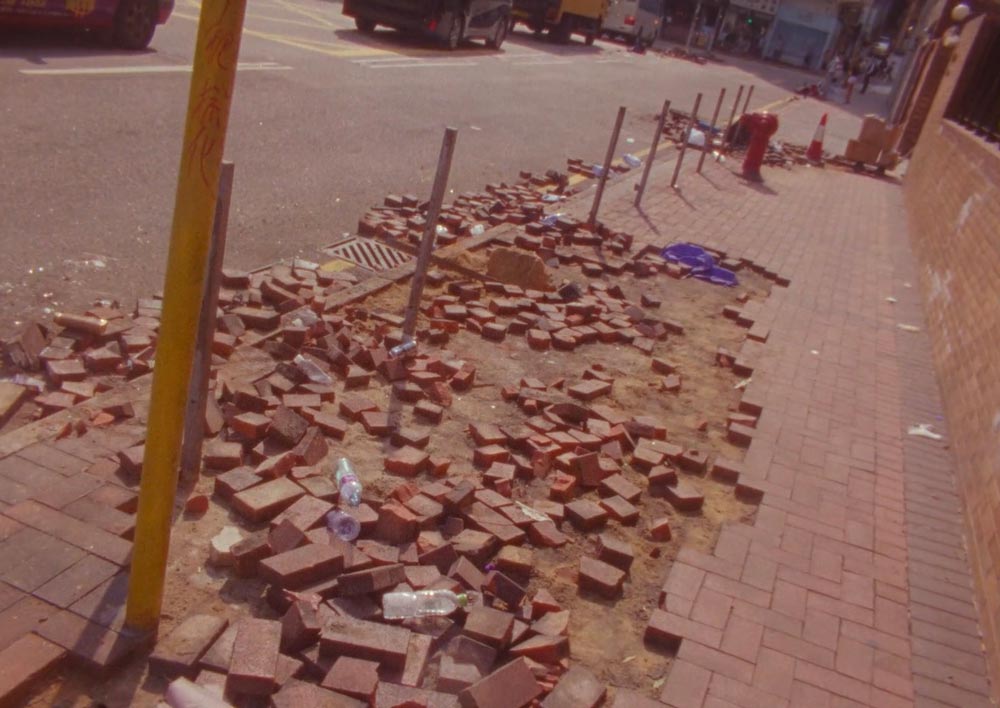 In Happy Valley British Colonial-era structures overlook traces of unrest as Hong Kongers work to retain some semblance of normality. Captive animals are seen in concert with political graffiti and desolate highways, as civic junctions come to a halt and then find release. While processing recent images and events from my home in Hong Kong Simon Liu has come to question the significance of personal memories, small pleasures, and self-care at times such as these. The film cinematically probes the role of the so-called little things as the days teeter toward an uncertain future. A rendering of the perseverance of spirit in Hong Kong. An attempt at irony that can't help but be emotional.
"In Hong Kong, echoes of resistance and turmoil are sensitively captured on 16mm in this poetic rumination of public spaces and everyday life in a metropolis in upheaval."
— ND/NF
---
Matt Whitman
THAT WAS WHEN I THOUGHT I COULD HEAR YOU
USA, 2021, 8' 42, 16mm, HD, silent, German Premiere


That was when I thought I could hear you - on petals, on fire, and on the edge of the bridge.
---
Richard Tuohy
IN AND OUT A WINDOW
Australia, 2021, 12' 00, 16mm, sound, German Premiere


Our front window, from inside and out.
---
Jacques Perconte
SILESILENCE
France, 2021, 15' 40, 2,35 scope, HD, sound, German Premiere


The window of an apartment in Rotterdam leads us to the outskirts of an industrial port, a strident and devouring machine that pours out flames. In front of this infernal and metallic spectacle, the horizon appears obstructed. The steel factories transform the material into smoke, and boats sail against winds and tides. Above the metal and the buildings that pierce the sky, silence and the flight of birds are only a hypothesis.
---
Lydia Nsiah
VS
Austria, 2021, 07' 33, found footage, HD, sound


"vs" (or "virtual spiral") deals with the dynamics between time and body in film. On digital video and non-reliable 16mm-film, the process of time and the (film) body is visually transformed by spiralling camera movements. Here, contrary movements, distance and proximity or depth and surface enter into a dialogue with each other. The spiral runs like a thread through the film "vs". To create the spiralling effect, Lydia Nsiah invented a camera tracking machine and shot in-studio, operating the movements of the camera live while recording. On screen we see Found Footage of data centres / recordings of the physical bodies representing our omnipresent data cloud. Artist Hui Ye composed the film's immersive sound space, interacting with the hypnotic and spiralling data body images.
---
Nicky Hamlyn
PASSAPORTA
Belgium, 2021, 14' 00, 16mm, silent, European Premiere


A visual study / analysis of the skylight of a bookshop and the surrounding buildings seen from above. Employing extensive time-lapse photography.
---
Micah H. Weber
EXIT MIRROR
USA, 2022, 11' 00, HD, sound, World Premiere


Image: one following the next.
Sound: surface, attention, time.
The moving-image rests with an interest in contingency, aimed at the moment, and situated as always ending, always beginning. The specificity of the work asks not only to impart the labour of its appearance, but that it may also be embodied as an image of labouring. Time touches us through the attention we give it. No progress, no sense, no state.