Expanded
Painlevé


173 mins


The special programme "Expanded Painlevé", conceived with guest curator Federico Rossin, combines the films of Jean Painlevé, surrealist poet of wildlife, with those by filmmakers from the American and European avant-garde who have pursued different modes of openness to the animal world.

An all-analogue programme that performs a waggle dance among inhuman displacements like the aptitudinal spinning and peeping motion of the camera's gaze (Cécile Fontaine, Safari Land), or rather by way of filmic light geometries (Guy Sherwin, Animal Studies). In due time it seems to be carnivorously devoured, inside-out, by vectors of political contagions (Jean Painlevé, Le Vampire and Joyce Wieland, Rat Life and Diet in North America). Farther, swinging on the brink of insolite departures of the self, the programme encounters protoplasmic seductions by means of aquatic frameworks (Jean Painlevé, Crabes et Crevettes), as much as by optical enclosures within marshy micro environments (Jean Painlevé, Descente de la mer en accéléré). It progressively sneaks through calm observations activated by in-camera-composed images as they transform in time (Rose Lowder, Tartarughe d'acqua), culminating in superimposed filmic epitomes of magical creatureliness (Stan Brakhage, The Loom).

Broadly, the programme brings insights into animal–human–technology entanglements, showing interspecies encounters as catalysts for magnificent hysteria, substitution play, electric unconscious flow, zoomorphic reorientation and hypnotic ecstasy.

Specifically chasing Jean Painlevé's human presence (a sort of Baudelairean wound and knife coexistence) embodied by his film commentary, the programme displays the inside-out dissolution of his voice leading to a reverse inner chronological order. Bringing into play the same subject, the Octopus, through different subaquatic elsewheres, it starts with the talkie Les amours de la pieuvre, 1967, and ends with the silent poem La Pieuvre, 1925. On doing so, it chimerically redeems Jean Painlevé's harmful departure from his purposeful self-identification as partisan of "pure cinema". In short, what Painlevé praises as the essential photographic rhythm of film découpage.

What is more, valuing his vocation of embracing the strange, stimulated by a non-anthropocentric anthropomorphic appetite, and casting it as a mutual encounter with different times and cinematographic approaches, the programme prioritizes an ahistorical pace where the signifier appears fragmentary yet overflowing with significance. Valorising film's materiality as specificity, it tends to display how, upon encountering the animal, the representation at play calls for its partial self-defacement by presentation. The imagery, as such, gains the carnal, cruel presence that Painlevé argues is a surrealistic attitude, one using optical enlargements as zoological affectations which he broadly calls "trop-objéts". The object namely tends to regain its status of material objectivity, exceeding generously the form that attempts to shape it.

Conversely, quite far from purity, his commentary, giving in to distribution demands and commercial obligations due to the arrival of sound in film, turns around a bizarre compound, roaming on the verge of mocking detachment, live prosopopoeia of whiteness and literacy of dis-education.
In conclusion, progressively contaminated by a frantic negrophilia given the Surrealistic inquiry, and broadly addressing savagery peculiarly shaped by jungle-skits-growling Jazz affectations, Painlevé's work above all reshapes itself through a sort of dehumanized corps morcelés as does the theatrical nature of Stan Brakhage's enclosure to wildlife. As for the latter, biting Georges Méliès, the animals exist as if on stage, and are edited as if by the rigour of dance, an outer limit, to date, of his own art.

G.B.
Sat 25 May
20:00h / ACUD KINO
---
Jean Painlevé
Les amours de la pieuvre
The Love Life of the Octopus
1967 / 16mm / colour / sound / 1S / 13' 00
How the octopus moves, breathes and eats. Its habitat in an opening in the rocks. Copulation and egg-laying.
---
Guy Sherwin
Animal Studies

1998-2004 / 16mm / b&w / silent / 1S / 25' 00
An ongoing set of films of inconsequential animal movements which are hand-printed in a variety of ways, using changes of light, geometry, time.
These processes reveal what might be hidden in the frames and photographic depths of the material, as well as constructing a way of looking in relation to their subject. My filmic interest in animals is that they are unselfconscious, authentic, and can't act. (...)
---
Jean Painlevé
Le Vampire - The Vampire

1939-1945 / 16mm / b&w / sound / 9' 00 English (Subs)
Presentation of a bat species from South America. Prey, attack strategy. Evocation of Murnau's mythical Nosferatu.
---
Joyce Wieland
Rat Life and Diet in North America
1969 / 16mm / colour / sound / 1S / 16' 01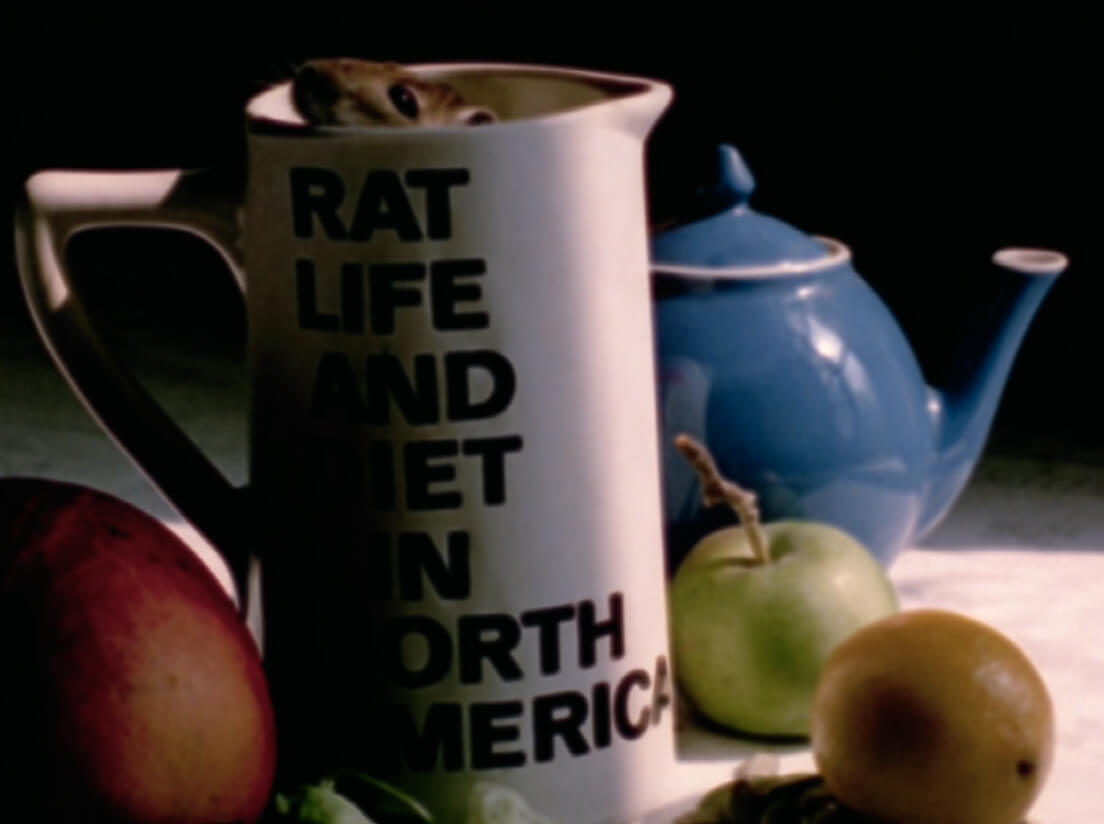 "Rat Life and Diet in North America proves that she's been looking long and affectionately at animal life, and is a sort of whimsical Evelyn Nesbit; never corny and creating with an intense female-ness." - Manny Farber, Art Forum
---
Jean Painlevé
Descente de la mer en accèlèrè
1960 / 16mm / colour / sound / single screen / 3'
Low tide in Brittany, shot continuously during 5 hours, with an image every 3 minutes.
---
Cécile Fontaine
Safari Land

1996 / 16mm / colour-b&w / sound / 1S / 10' 00
1 – Observe carefully and secretly (someone, an animal) – spy on a suspicious person spy – to follow someone to watch – spin, track, monitor – Animal spying on his prey – watch – Prowling, to alert.
2 – Observe carefully... scrutinize... (in The Oxford Dictionary).
---
Jean Painlevé
Crabes - Crabs

1930 / 16mm / b&w / sound / 1S / 8' 00
Presentation of two kinds of crabs. Details of mouth, eye, copulation, and fight.
---
Rose Lowder
Tartarughe d'acqua

2016 / 16mm / colour / silent / 1S / 24' 32
The town of Asti, Piemonte, in Italy, has in its park a very small pond in which there are a great number of turtles, a species "Trachemys scripta and Trachemys scripta elegans" protected by the "Movimento Nationale U.N.A. Onlus Uorno-Natura_Animali".
In spite of the very limited space in the pond, a spirit of well-being prevails, all is calm while each turtle tries to find its place even if it means falling into the water every now and then.
---
Jean Painlevé
Crevettes (La faune sous-marine) - Shrimps
1930 / 16mm / b&w / sound / 1S / 8' 00
Images of crabs and shrimps. Physical details of two kinds of shrimps.
---
Stan Brakhage
The Loom

1986 / 16mm / colour / silent / 1S / 42' 29
Dedicated to Robert Kelly.
A multiple-superimposition hand-painted visual symphony of animal life on earth. The Loom might be compared to musical quartet-form (as there are almost always four superimposed pictures); but the complexity of texture, multiplicity of tone, and the variety of interrelated rhythm, suggest symphonic dimensions. The film is very inspired by Georges Méliès: the animals exist (in Jane's enclosure) as on a stage, their interrelationships edited to the disciplines of dance, so therefore one might say this hardly represents "animal life on earth"; but I would argue that this work at least epitomizes theatrical Nature, magical Creature, and is the outside limit, to date, of my art in that respect. SB
---
Jean Painlevé
La Pieuvre - The Octopus

1925 / 35mm / b&w / silent / 1S / 10' 00
Locomotion, physical details, breathing. She throws her ink. Fight and death.